Essential Dermatology 
220 N Main St #201
Natick, MA 01760 
Phone: (508) 827-2615 
Monday–Friday: 7:30 a.m.–5 p.m.

Essential Dermatology 
340 Maple Street #202
Marlborough, MA 01752
Phone: (508) 827-2615 
Thursdays: 7:30 a.m.–5:00 p.m.

Chemical peels are a long-standing skin rejuvenation technique. Chemical peels can help with a variety of skin concerns like acne scars, wrinkles, and sun-damaged skin. Chemical peels use different medical-grade chemicals on the skin to exfoliate and peel off the aged, damaged tissue. The new skin is much smoother than the old skin. There are three main types of chemical peels:
Superficial Peel: A mild acid is used to penetrate the dermis and gently exfoliate it. This helps to improve mild skin discoloration and rough skin. It can help to refresh the look of the face, neck, chest, and hands.
Medium Peel: Glycolic or trichloroacetic acid is applied to the skin. This penetrates the outer and middle layers of the skin and removes damaged skin cells. This is used to improve age spots, fine lines, wrinkles, freckles, and moderate skin discoloration. The medium peel can also be used to treat some precancerous skin growths.
Deep Peel: This method uses trichloroacetic acid or phenol to deeply penetrate the middle layers of the skin. This helps to remove damaged skin cells. It can improve the look of lines, age spots, freckles, and scars. Patients will notice a dramatic improvement in the appearance of the skin.
At Essential Dermatology, Dr. Krathen offers the chemical peels to help his patients refresh their skin and remove aging signs.
Chemical Peels

Before & After Photos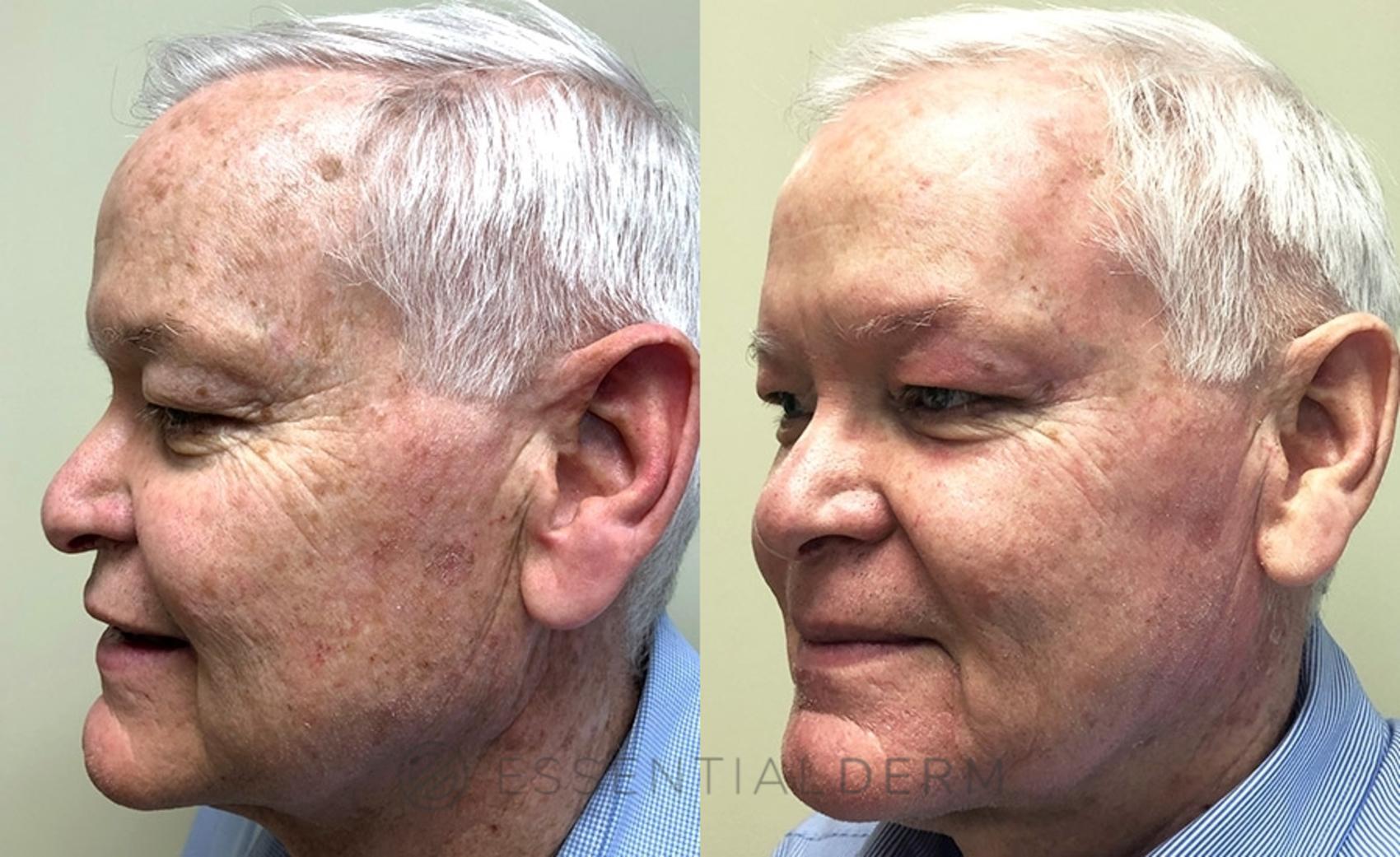 Before & After
Chemical Peel Patient #8705
68 year old male wants to lighten and smoothen the skin.
Before & After
*Keep in mind that each patient is unique and your results may vary.
How Do Chemical Peels Work?
When the acid is applied to the skin it interacts with proteins in the skin which causes exfoliation and peeling of the skin. Different acids cause exfoliation at different depths, which allows us the customization of a superficial, medium, and deep peel. Chemical peels can be used to treat many different skin conditions.
What Do Chemical Peels Treat?
Aging Skin
Acne Scars
Age Spots
Crow's Feet
Hyperpigmentation
Melasma
Scarring
Sagging Skin
Sun-Damaged Skin
Wrinkles
Maintenance for Chemical Peels
It is important to take care of your skin following a chemical peel, to not only enhance results but to prevent any damage. Your skin will be extra sensitive following your chemical peel. Dr. Krathen will recommend products to use to keep your skin moisturized and hydrated. It is important to keep your skin away from harsh UV rays, so using a daily sunscreen is recommended.
Meet Dr. Michael Krathen
Dr. Michael Krathen is a board-certified dermatologist with more than a decade of medical training and experience. A specialist in both medical and cosmetic dermatology, he uses expertise, collaboration, and compassion to help people of all ages discover their healthiest and most radiant skin.
Meet Dr. Krathen
Schedule a Consultation
To get a completely refreshed face, come into Essential Dermatology for a chemical peel. Talk to Dr. Krathen about your skin concerns and desires so that he can create a personalized chemical peel for you. To get started, call our office at (508) 827-2615  or request a consultation by filling out our online form. To book an appointment, schedule your visit as a new patient using our online scheduler or as an existing patient using the Mass General Brigham Patient Gateway.
Back to Top