Essential Dermatology 
220 N Main St #201
Natick, MA 01760 
Phone: (508) 827-2615 
Monday–Friday: 7:30 a.m.–5 p.m.

Essential Dermatology 
340 Maple Street #202
Marlborough, MA 01752
Phone: (508) 827-2615 
Thursdays: 7:30 a.m.–5:00 p.m.

BOTOX Cosmetic is one of the most popular aesthetic treatments performed worldwide because it's a quick, simple way to maintain a refreshed, younger-looking appearance. Women and men choose BOTOX to smooth out wrinkles and relax lines that have become etched into their skin over time. Essential Dermatology's board-certified dermatologist Dr. Michael Krathen performs BOTOX injections at his office in Natick serving Wellesley, Framingham, Needham, Wayland, and Weston, MA, and other surrounding cities.
BOTOX® Cosmetic

Before & After Photos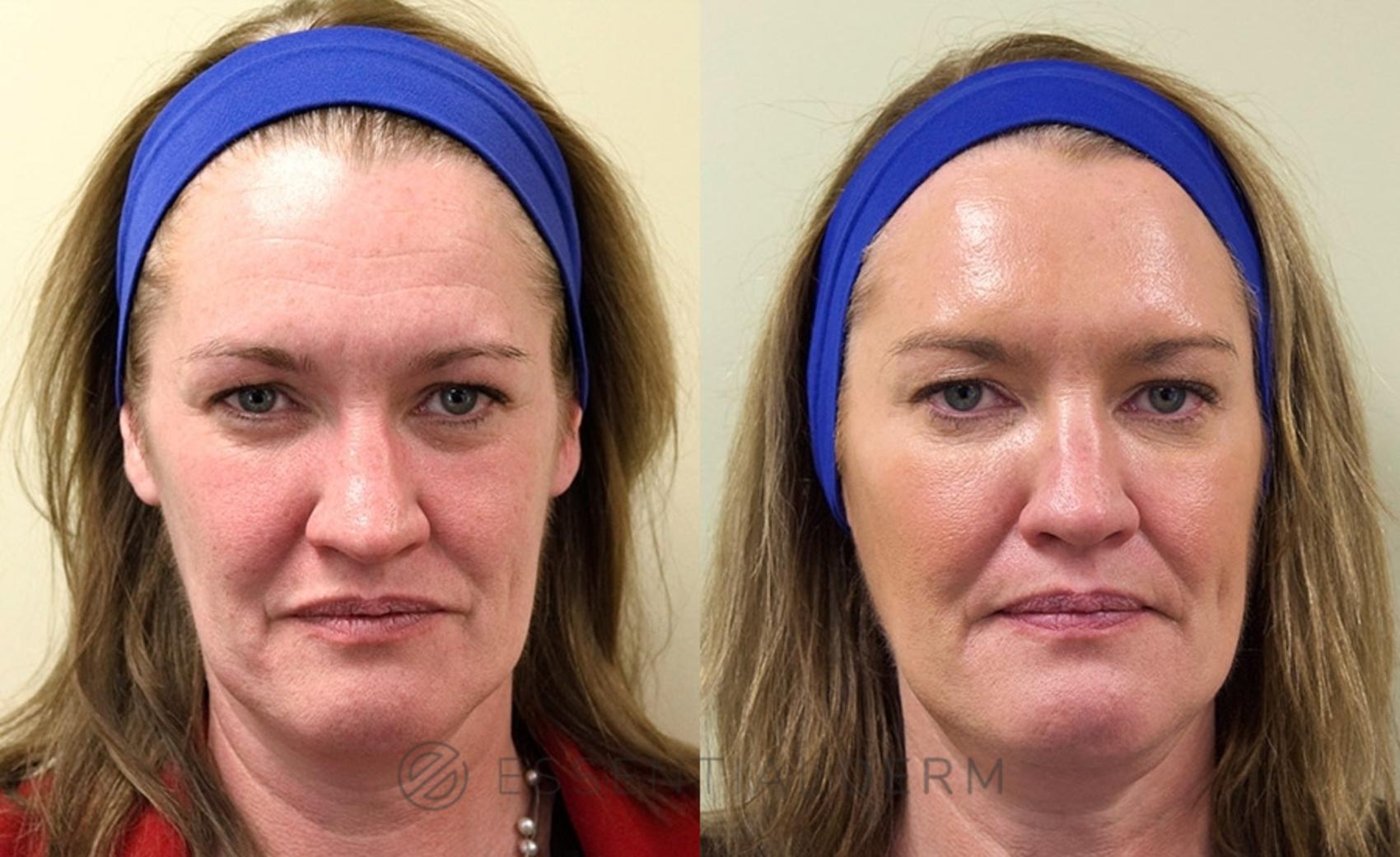 Before & After
Botox Filler Patient #8436
47 year old woman desires pan-facial rejuvenation.
Before & After
Botox Patient #9319
43 year old female with Botox to smoothen forehead lines.
*Keep in mind that each patient is unique and your results may vary.
How Does BOTOX Work?
BOTOX is an FDA-approved neuromodulator made from botulinum toxin-A. It temporarily suspends the muscle contractions that form lines and wrinkles made by facial expressions, called "dynamic wrinkles." The results are smoother skin and a more youthful, refreshed appearance.
BOTOX Treatment Areas
BOTOX treats many different signs of aging in the face and neck, such as:
Vertical frown lines between the eyebrows (glabellar lines)
Crow's feet at the corners of the eyes
Horizontal forehead furrows
Lines around the lips (perioral lines)
Platysmal bands on the neck
What Is Preventative BOTOX?
BOTOX can also be used proactively in younger patients to prevent dynamic wrinkles from forming in the first place. This treatment, often called "baby BOTOX," uses smaller doses than for existing wrinkles.
Your BOTOX Cosmetic Treatment Plan
BOTOX results last a few months, so your treatment plan will likely include regular maintenance injections to keep your look fresh. Many people find that they can space their maintenance treatments out longer once they've consistently used BOTOX over time.
Other nonsurgical treatments may also be part of your treatment plan to address skin issues that typically accompany the appearance of expression lines. For concerns such as rough skin texture, sun damage, brown spots, and redness, BOTOX works exceptionally well when combined with other treatments such as chemical peels, laser therapy, and at-home skin care.
BOTOX Compared to Other Neuromodulator Injections
BOTOX and similar neuromodulators such as XEOMIN®, Dysport®, and Jeuveau® effectively reduce the appearance of expression lines and wrinkles. Each lasts about 3 to 4 months. Because their formulas differ, however, they vary how quickly they produce results and best uses. For example, Dysport diffuses more easily than BOTOX, so it's not a great choice for small, precise treatment areas.
BOTOX was the first neuromodulator to be approved by the FDA for cosmetic use and has the longest track record. For many, it is still the gold standard for wrinkle-smoothing neuromodulators.
Are Dermal Fillers Better Than BOTOX?
BOTOX and dermal fillers are injectable treatments that have different benefits and work in different ways; neither is better than the other. Concerns caused by volume loss, such as smile lines (nasolabial folds) and hollows around the eyes, are often better treated with injectable dermal fillers that restore lost fullness to the face. Dr. Krathen often combines BOTOX and filler treatments for a more noticeable rejuvenation. You can see a comparison of the type of wrinkles each product treats in the table below:
| | | |
| --- | --- | --- |
| | BOTOX Cosmetic | Dermal Fillers |
| Type of Wrinkles | Dynamic | Static |
| Effects | Smooths fine lines & wrinkles; Relaxes facial muscles | Fills creases & folds; Adds volume |
| Results Appear | 7 to 10 days | Immediate |
| Results Last | 3 to 4 months | 6 to 12 months for most fillers |
What To Expect at Your BOTOX Appointment
It typically takes only about 15 minutes to receive a BOTOX treatment in our office. The treatment consists of a few quick injections using a tiny needle. Most people do not find these painful, describing merely a brief, pinching sensation. Dr. Krathen will ask you to form different facial expressions to determine precisely which muscles to inject. That way, you'll enjoy attractive results while maintaining plenty of natural, expressive movement in your face.
What Is BOTOX Recovery Like?
Directly following your BOTOX treatment, you should avoid touching or massaging the area. To minimize bruising and prevent BOTOX from migrating away from the treatment area, you should not lie down for at least 4 hours after your treatment.
Other than that, you are free to return to work and other daily activities right away. You may notice some slight swelling or bruising around your injection sites, but this typically fades quickly. Avoiding alcohol and blood-thinning supplements before your appointment will help keep this to a minimum.
Meet Dr. Michael Krathen
Dr. Michael Krathen is a board-certified dermatologist with more than a decade of medical training and experience. A specialist in both medical and cosmetic dermatology, he uses expertise, collaboration, and compassion to help people of all ages discover their healthiest and most radiant skin.
Meet Dr. Krathen
When Will I See My BOTOX Results?
BOTOX results are not immediate but emerge gradually over the course of about 7 to 10 days. Once treated facial muscles stop functioning, the overlying skin smooths out and wrinkles fade. It may take up to 2 weeks for the BOTOX to take full effect and produce the best results.
How Long Does BOTOX Last the First Time?
The results from BOTOX injections last about 3 to 4 months depending on the area treated. Repeat treatments at Essential Dermatology will maintain your look for as long as you'd like. Dr. Krathen will recommend a treatment schedule that works best for you and your unique cosmetic goals.
BOTOX FAQ
Is BOTOX Cosmetic safe?
BOTOX has a long track record for safety when administered by a skilled, knowledgeable injector.
At what age should you start getting BOTOX injections?
Many men and women begin BOTOX when they start to see expression lines form. For some, this can be when they're in their 30s, while others begin BOTOX in their 40s or 50s. Some younger people also use the neuromodulator in smaller doses to delay the formation of dynamic wrinkles.
Are there any disadvantages to getting BOTOX?
BOTOX is generally considered safe, but you may experience some discomfort, bruising, or swelling at the injection site after your treatment. Those are normal side effects that will resolve on their own. Some people who have used BOTOX for a prolonged period of time might experience muscle atrophy, so it's important to use a board-certified dermatologist, plastic surgeon, or highly qualified injector who can monitor your BOTOX use.
Does BOTOX make you look older when it wears off?
You may notice expression lines beginning to form again as your BOTOX wears off, but they won't be worse than when you began BOTOX injections.
Is BOTOX worth the money?
Many people find that BOTOX is an excellent, cost-effective option for smoothing wrinkles, with more than 4 million BOTOX injections performed each year in the U.S. Those who have had BOTOX give it a 96% "worth it" rating on RealSelf.com.
Will my results look natural?
The quality of your results is directly affected by the skill of your injector. Choosing an experienced, knowledgeable injector who knows the right dosage for you and can precisely target the injection location helps ensure you enjoy natural-looking results.
What is a liquid facelift?
A combination treatment of dermal fillers and BOTOX, a liquid facelift is a nonsurgical treatment to address multiple signs of facial aging.
Schedule a Consultation
Dr. Krathen will work personally with you to find the best skin treatments that provide you with youthful, glowing skin. To get started, call our office at (508) 827-2615  or request a consultation by filling out our online form. To book an appointment, schedule your visit as a new patient using our online scheduler or as an existing patient using the Mass General Brigham Patient Gateway.
Back to Top